Celebration Cruise Line - Ship Tour
The Wynmore Casino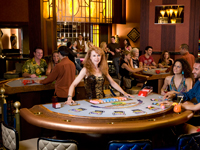 "We have a winner!" Your adrenaline will soar as you join lady luck in our plush and friendly Las Vegas style casino. Open day and night until 3 A.M. while out at sea, you can find treasure at the slots, double down on a hand of black jack and play your favorite lucky numbers on our roulette tables. And with baccarat, poker and more… there's never a dull moment on our casino floor! Be sure to ask about Free "Match Play" when entering the casino; and if you're new to gaming – we have instructional classes as well. Good Luck!
Palm Beach to Gran Bahamas Cruise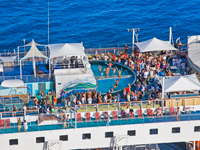 The Ship leaves from Palm Beach every other day to go to Grand Bahama Island, You can start boarding at Noon and the ship shoves off at about 5:30pm. Call 954-969-0069 for reservations.
Pampering & Wellness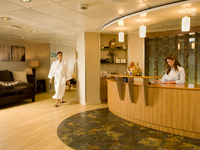 Cruising is all about escaping the hectic outside world, and rejuvenating your mind and spirit from all the stresses around you. Relax on deck by taking a dip in our refreshing pool. And for a little invigorating exercise, plan a workout in our fully equipped fitness center. For the ultimate self-indulgence, revitalize yourself in our therapeutic bliss-inspiring Spa & Salon. It will elate your senses.
As you can see Grand Bahamas is colorful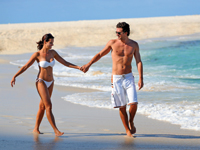 The Bahamas Celebration arrives in Grand Bahama Island at 8am, allowing for a full day of fun and exotic activities. Next stop for them is the shopping, beaches, a tour of the town, or the casino at Our Lucaya Golf & Beach Resort. Ask us about the "Cruise & Resort Stay" deal we have.
Dining aboard the with Bahamas Celebration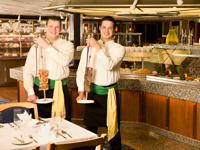 The four delicious dining options include a classic American restaurant serving five-course meals from a broad menu, an all-you-can-eat International restaurant , buffet and a casual Italian restaurant, all as part of the cruise price. For individuals looking for more upscale dining, the elegant and romantic Cove Restaurant is available at an additional cost.